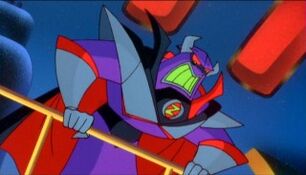 Emperor Zurg is arch-enemy of Buzz Lightyears, one of the Organization's Assault force.
Canon bio
Edit
Rules an empire on Planet Z, and wants to rule the entire galaxy while destroying Star Command. Emperor Zurg considers Buzz his arch-enemy and often takes any opportunity to eliminate him. Most of his subjects are robots. His feet double as rockets and he can transform his arms into a variety of weapons. Despite often breaking the seriousness of otherwise purely evil statements, Zurg is widely considered the most evil person in the galaxy, especially by the other villains. He seems to have some neuroses about being touched. In some episodes is shown being comical. The episode War, and Peace and War was notably the only episode where Zurg teamed up with Buzz Lightyear to defeat the Heed, a common enemy that was trying to take over their galaxy.
Appearence in Ultima
Edit
Zurg serves the forces of darkness as a space defense member along with General Grievious and other space villains, while also harboring a grudge against his biggest enemy, Buzz Lightyear.
Ad blocker interference detected!
Wikia is a free-to-use site that makes money from advertising. We have a modified experience for viewers using ad blockers

Wikia is not accessible if you've made further modifications. Remove the custom ad blocker rule(s) and the page will load as expected.