Vilgax is an intergalactic alien conqueror, a Chimera Sui Generis who serves as Ben's archenemy and is the Org's most resillient ruthless lieutenant
Canon bio
Edit
A vicious galactic warlord known as "the most dangerous being in the universe" Vilgax's goal is to get the Omnitrix and use it to create an army capable of transforming into any alien to conquer the universe. Though he originally chased Ben only because of this, and had few concern about his fate once he would get the Omnitrix, the several failures the boy caused him, as well as an imprisonment in the Null Void, causing his hatred for Ben to grow, so much that, in his last appearances, he seems to want to kill him nearly as much, if not more, as to get the Omnitrix.
Vilgax is one of the most feared beings in several galaxies, having conquered ten planets, destroyed five others and created a black hole. In fact, he is so feared, that almost no biological lifeform is willing to work for him, forcing him to use robots for his entire crew, though he is able to find mercenaries willing to work for him for the right price.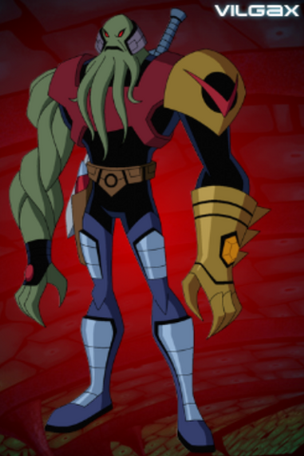 Vilgax is ruthless, cruel and power-hungry. His primary objective seems to be gaining the Omnitrix so that he can use it to take over the universe. He is known to be very manipulative, notably so of the Galactic Code of conduct, in order to achieve his goals. While stranded on Earth following his defeat at the end of Alien Force, Vilgax skillfully manipulates a group of humans known as the Flame Keeper's Circle into serving him. Upon discovering that his squid-like form resembles the alien of knowledge worshipped by the cult, he adopts the role for his own and manipulates his new followers into helping him escape the planet.
Despite his cruel and villainous tendencies, Vilgax does care about his own people (taking his role as Vilgaxia's ruler and champion very seriously), so much so that he is willing to put his own life on the line and use whatever other means necessary to ensure Vilgaxia's, and its people's, safety; even if it means begging his enemies for help.
Appearence in Ultima
Edit
Vilgax act as one of lieutenant for the world that the Orgs will conquered, he still bear a grudge against Ben tennyson including making an enemy of few Society membered.
Ad blocker interference detected!
Wikia is a free-to-use site that makes money from advertising. We have a modified experience for viewers using ad blockers

Wikia is not accessible if you've made further modifications. Remove the custom ad blocker rule(s) and the page will load as expected.