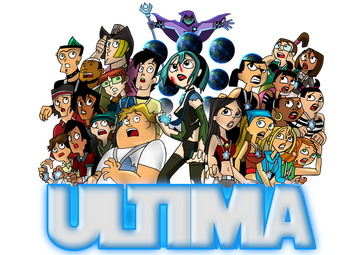 Total Drama Ultima is one of many fanfics in the Universal Takeover Saga. Unlike the others, this one doesn't take place in the Total Drama world. Instead, the world was already destroyed leaving twenty-two surviving teenagers (plus Chris and Chef Hatchet) scattered into other worlds. The fanfic mainly focuses on the TDI teens trying to find each other in the multple worlds so they can transport to a safer location together. A sequel is also in the works featuring the teenagers introduced in Total Drama World Tour and the upcomming Total Drama Revenge of the Island.
Worlds Visited
Edit
The Nightmare Before Christmas
Sky High
The Lion King
Lord of the Rings
Teen Titans
Invader ZIM
Peter Pan
Over the Hedge
Ben 10: Alien Force
The Incredibles
The Grim Adventures of Billy and Mandy / Codename: Kids Next Door
Fairly Oddparents
The Emperor's New School
Rocket Power
Pocahontas
Aladdin
Winx Club
Cars
The Maxx
The Brave Little Toaster
W.I.T.C.H.
The Real World
Worlds Visted in 'The Remaining Five Part 5'
Edit
Jimmy Two-Shoes
Mulan
Neurotically Yours
Spawn
My Little Pony
Star Wars
South Park
Harry Potter
Stoked
T.U.F.F. Puppy
The Cleveland Show
Bambi
Surf's Up
Transformers
Dexters Laboratory
Speed Racer
Tom and Jerry
The Land Before Time (TV series)
Ice Age
101 Dalmatians
The Simpsons
http://www.fanfiction.net/s/5126015/1/Ultima_Total_Drama_Ultima
Ad blocker interference detected!
Wikia is a free-to-use site that makes money from advertising. We have a modified experience for viewers using ad blockers

Wikia is not accessible if you've made further modifications. Remove the custom ad blocker rule(s) and the page will load as expected.