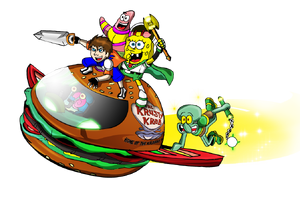 The Patty Rocket is the second story arc in the fanfiction,
Ultima: The Crossing of Universes
. This arc features
Nick
with
Spongebob
and friends as they travel to different worlds in their new airship, the Patty Rocket. But following them through these worlds are
Plankton
and a mind controlled
Marlon
. Most of the worlds are from Nintendo's video games, with the exception of The Fairly Odd Parent's world.
2.1) Return to Bikini Bottom
2.2) Welcome to Rogueport
2.3) Rumble in the Jungle
2.4) Fairy World Invasion
2.5) War on the Lylat System
2.6) The Rivals Arrival
2.7) BEHEMOTH!
2.8) The TriForce Threat
2.9) Nick vs the Space Pirates
2.10) Seperated Thanks to Meta Ridley
2.11) Bowsers Wrath
2.12) Planktopolis 2
2.13) Planktons Last Stand
Ad blocker interference detected!
Wikia is a free-to-use site that makes money from advertising. We have a modified experience for viewers using ad blockers

Wikia is not accessible if you've made further modifications. Remove the custom ad blocker rule(s) and the page will load as expected.