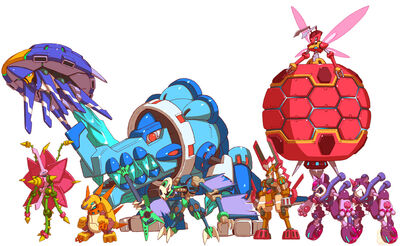 The Temermojyu are an elite Org Unit, composed of various bosses from the Megaman series, Solely bosses from Zero, ZX, and Possibly updated versions of X and Star Force. There are also custom models present.
There are 126 Temermojyu currently present.
Temermojyu
Edit
Hivolt the Raptoroid
Edit
Lurerre the Abysroid
Edit
Fistleo the Predatoroid
Edit
Purprill the Mandroid
Edit
Hurricaune the Wolveroid
Edit
Leganchor the Gelroid
Edit
Flammole the Moleroid
Edit
Protectos the Goreroid
Edit
Buckfire the Gaxelleroid
Edit
Chronoforce the Xiphosuroid
Edit
Rospark the Floroid
Edit
Argoyle and Ugoyle the Shisaroids
Edit
Queenbee the Hymenopteroid
Edit
Hedgeshock the Erinaceroid
Edit
Vulturon the Condoroid
Edit
Bifrost the Crocoroid
Edit
Aztec Falcon
Edit
Maha Ganeshariff
Edit
Anubis Necromancess III
Edit
Blizzack Staggroff
Edit
Hanumachine
Edit
Herculious Anchortus
Edit
Hyleg Ourobockle
Edit
Panter Flauclaws
Edit
Phoenix Magnion
Edit
Poler Kamrous
Edit
Kuwagust Anchus
Edit
Burble Hekelot
Edit
Blazin' Flizard
Edit
Childre Inarabitta
Edit
Hellbat Schilt
Edit
Deathtanz Mantisk
Edit
Glacier Le Cactank
Edit
Volteel Biblio
Edit
Cubit Foxtar
Edit
Tretista Kelverian
Edit
Fenri Lunaedge
Edit
Heat Genblem
Edit
Mino Magnus
Edit
Noble Mandrago
Edit
Pegasolta Eclair
Edit
Popla Cocapetri
Edit
Sol Titanion
Edit
Tech Kraken
Edit
Role In Ultima
Edit
Ad blocker interference detected!
Wikia is a free-to-use site that makes money from advertising. We have a modified experience for viewers using ad blockers

Wikia is not accessible if you've made further modifications. Remove the custom ad blocker rule(s) and the page will load as expected.