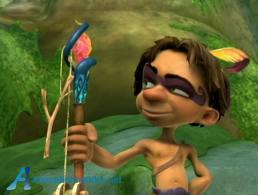 Tak has the ability to summon a magic power, which the Jujus (Magical creatures) bestowed upon him to serve as a link between his and their realms (after Tak saved the Jujus from Darkness Juju). Tak tends to be the smarter of the group, but has his mishaps when it comes to practicing his Juju power. Whenever Lok gets himself into trouble Tak is the first one on the scene to save him. He is Jibolba's nephew and apprentice. He lives with Jibolba. Little is known about Tak's parents except his mother was Aurora Juju and his father was a Pupununu. It was foretold by Psychic Juju that he would marry the future Chief of the Pupununu whom may or may not be Jeera.
Ad blocker interference detected!
Wikia is a free-to-use site that makes money from advertising. We have a modified experience for viewers using ad blockers

Wikia is not accessible if you've made further modifications. Remove the custom ad blocker rule(s) and the page will load as expected.