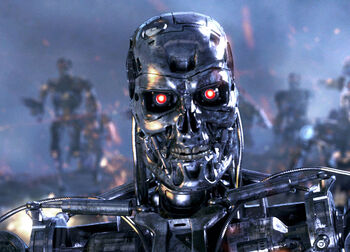 The Cyberdyne Systems Model 101 Series 800 Terminator was sent by Skynet in 2029 to Los Angeles in 1984 to kill Sarah Connor, the future mother of John Connor, the leader of the future human Resistance. It was the first of the Infiltrators sent back on assassination missions by Skynet, and is arguably the single most significant Terminator unit as it inadvertently "fathered" Skynet in its journey through time, much like how Kyle Reese fathered John Connor in his.
the Terminator is a formidable robotic assassin and soldier, designed by the military supercomputer Skynet for infiltration and combat duty, towards the ultimate goal of exterminating human resistance]. It can speak naturally, copy the voices of others, read human handwriting], and even genuinely sweat, smell, and bleed. To detect the Terminators, who are otherwise indistinguishable from humans, the human resistance uses dogs to alert humans to their presence. The most notable science fiction characteristics are that of an expert system] featuring strong AI functionality combined with machine learning, and the system can interpret arbitrary non-formalized tasks. The other notable science fiction component is that of a power source which can last 120 years.
Appearence in Ultima
Edit
The unit hasn't appeared in the series yet, but there is some hint of reference when Nick questions about them. And since it could also cross through dimensions, it would appear incognito.
Not to mention it's a strong possibility that the Org has most likely captured some other models, copied their schematics, and mass produced them. And quite possible done some modifications and created even stronger models.
Some T-800-like robots have been in Peri & Entree's robotic army.
Ad blocker interference detected!
Wikia is a free-to-use site that makes money from advertising. We have a modified experience for viewers using ad blockers

Wikia is not accessible if you've made further modifications. Remove the custom ad blocker rule(s) and the page will load as expected.