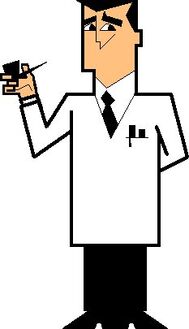 Professor Utonium is a brilliant scientist who works in his home in the suburbs of Townsville. A stereotypical scientist, his general attire is a white lab coat and black pants with pens tucked into the lab coat's breast pocket. The Professor once housed a chimpanzee named Jojo (later to become the girls' arch-enemy, Mojo Jojo ) as a lab assistant who proved to be reckless and destructive. Jojo pushed the Professor while he was stirring his Perfect Girl concoction, causing him to accidentally break through a glass containing the mysterious "Chemical X" which spilled into the formula, thus creating the Powerpuff Girls. The Professor is a genius in many fields of science, having shown knowledge in fields such as physics, chemistry, and biology as well as being a skilled inventor (inventing things such as a giant bipedal Powerpuff robot called the DyNaMo and a super suit that allowed him to fight crime with the girls). Aside from his role as a scientist, he acts as parent in The Powerpuff Girls' lives (doing things a father would normally perform, like preparing their school lunches or cheering up his "daughters" when they've been hurt). Although the girls address him as "Professor", when discussing the Prof with others, they refer to him as "our dad". The Professor can be odd, silly, clumsy, easily manipulated and over-protective at times, but still retains his caring father figure image. His catchphrase is "I made It!" .
Ultima Role
Edit
Utonium often works at the House of Geniuses, while still looking after the Powerpuff Girls as their caring father, his journey resolved over the events in Ultima.
His story from Townsville's invasion will be explored in The Powerpuff Problem.
Ad blocker interference detected!
Wikia is a free-to-use site that makes money from advertising. We have a modified experience for viewers using ad blockers

Wikia is not accessible if you've made further modifications. Remove the custom ad blocker rule(s) and the page will load as expected.