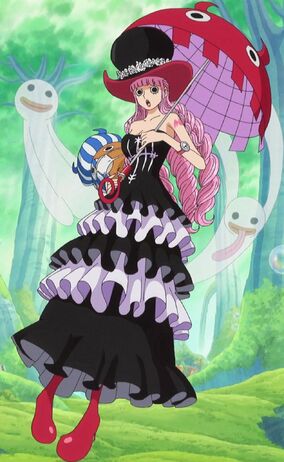 Perona is the former Wild Zombies and Surprise Zombies Commander of Thriller Bark before the collapse of Gekko Moriah's zombie army. She is able to produce ghosts from her body through the powers of the Horo Horo no Mi. She was one of the major antagonists of the Thriller Bark arc, being one of the Mysterious Four, but has since begrudgingly cooperated with Roronoa Zoro.
Perona is drawn in a rather different style from the usual, with big round eyes. Her hair is light pink colored and very long. Her feet are usually seen with her toes pointing inwards in a 'pigeon-toed' manner, whether or not she actually has the medical condition is unknown.
Her looks are inspired by the 'Gothic Lolita' style, with black, white and bright red. Perona's usual hair style has it tied in two high pigtails with somewhat flower-shaped black and white hairpins, and she always wears a red crown with a cross on top. Her tights cover her entire legs and wears a mini-skirt and red buckled boots to match. She is always wearing red lipstick and a thick layer of eyeliner. She is often seen carrying around a red umbrella shaped somewhat like a cute version of a mini devil before her battle with Usopp.
Perona is confident and firm with herself. She dislikes people telling her what to do and dislikes anyone disobeying her will. She was even willing to put Absalom in his place and remind him of where her authority lies on Thriller Bark. Despite this, she is normally loyal to Gekko Moriah and apparently sees him as a way of protection, as she is seen crying to rejoin him. In the manga, she normally speaks using a very masculine language, despite her looks. After Zoro appears, she tends to his wounds, displaying a willingness to befriend even those she sees as a foe. It also shows that she is not completely incapable of being kind to others, despite how cruel she can seem at times.
She apparently likes 'cute' creatures and will only allow someone to work for her if they are cute. Her dream is to create a country where all the 'cute' people are turned into zombie animals that obey only her. She disliked Kumashi because, although he is cute in appearance, his voice is not, and thus she prefers him to just be quiet. Her desire for cute things gives her a slight childish outlook on some issues. She is very playful, threatening to burst Usopp's heart when she was in her ghost form. Usopp nearly died of the fear itself, and got enraged when Perona simply laughed it off, saying she could do no such thing.
Role in Ultima
Edit
Ad blocker interference detected!
Wikia is a free-to-use site that makes money from advertising. We have a modified experience for viewers using ad blockers

Wikia is not accessible if you've made further modifications. Remove the custom ad blocker rule(s) and the page will load as expected.