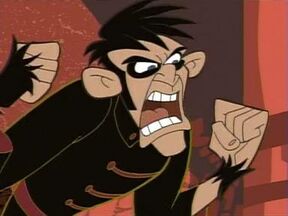 Lord Monkey Fist, birth name Montgomery "Monty" Fiske, is a villain who specializes in the mystical and martial arts. More specifically, he is obsessively consumed with the study of Tai Shing Pek Kwar, or Monkey Kung-Fu, and with monkey-themed magical artifacts.
Once a respected archaeologist and the leading expert on all things simian, Lord Montgomery Fiske is an example of the consequences of obsession. In his debut episode, Monkey Fist Strikes, he turned to Kim Possible and Ron Stoppable to help him recover a jade monkey statue from a temple in Cambodia.
Kim managed to retrieve the statue, which Monty stole while disguised as a ninja to throw her off the trail. Taking it back to his home in England, he set the idol in precise alignment with four others and was given mystical monkey power as a result. He then changed his name from Monty Fiske to Monkey Fist in an appropriately ironic anagram.
Ad blocker interference detected!
Wikia is a free-to-use site that makes money from advertising. We have a modified experience for viewers using ad blockers

Wikia is not accessible if you've made further modifications. Remove the custom ad blocker rule(s) and the page will load as expected.