Mika Jougasaki is an Idol from THE iDOLM@STER: Cinderella Girls.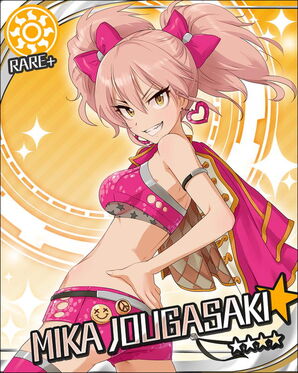 The elder Jougasaki sister, Mika is a fan of the gal subculture. Like any older sister, she and Rika don't always see eye to eye, and squabble on occasion, but most of the time they get along just fine. Mika gives the impression of being tough and playful, but there is more to her than meets the eye.
Ad blocker interference detected!
Wikia is a free-to-use site that makes money from advertising. We have a modified experience for viewers using ad blockers

Wikia is not accessible if you've made further modifications. Remove the custom ad blocker rule(s) and the page will load as expected.