Max is shown to be Goofy's son, At the beginning of the show, he moves with his father from a trailer park to Goofy's hometown of Spoonerville. He and Goofy live right next door to Pete, and his family. Despite Pete's relationship with Goofy being rather antagonistic, Max almost instantly becomes best friends with Pete's son, P.J.
Max's antics as well as his relationship with Goofy. Though he is sometimes embarrassed by Goofy's antics, he is still very close to his father. In some ways, Max is comparable to Pete, as Max is often involved in cunning schemes to get away with things, or do something the easy way.
Ultima role
Edit
Max is in training with his father, Goofy and also a Sentinel cadet for further combat knowledge and keep an eye on his on-again girlfriends, Roxanne, althought she think he just worried too much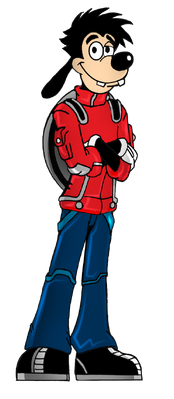 His backstory will involved on a sudden misadventure and changing destiny when he in a party with Sora along the duck triplet against the Orgs in Ultima story: Dimensional Empire.
Ad blocker interference detected!
Wikia is a free-to-use site that makes money from advertising. We have a modified experience for viewers using ad blockers

Wikia is not accessible if you've made further modifications. Remove the custom ad blocker rule(s) and the page will load as expected.