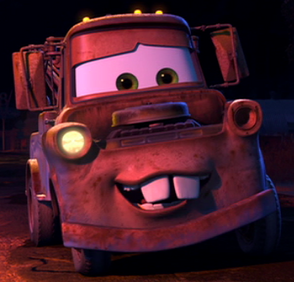 "Mater's lived in Radiator Springs his whole life. In his younger days, he used to be a real handful around town, playing pranks on everyone, tippin' tractors, saying inappropriate things at the wrong time, but luckily he's matured a lot since then."
"Mater's a good ol' boy with a big heart and the only tow truck in Radiator Springs. He runs Tow Mater Towing & Salvage and manages the local impound lot. Though a little rusty, he has the quickest towrope in Carburetor County and is always the first to lend a helping hand. Mater sees the bright side of any situation. He's the heart and soul of Radiator Springs, and he doesn't have a mean bolt in his chassis."
"Keep an eye on Mater, he tends to take things a little too literally."
Mater is a friendly tow truck with buckteeth. He speaks with a thick Southern redneck accent with a dash of hillbilly twang and frequently uses incorrect syntax.
Mater runs Tow Mater Towing & Salvage. Mater is one of the first to befriend and support Lightning throughout his adventure in Radiator Springs. During the film, Mater shows Lightning how to do Tractor Tippin' and how to drive backwards without crashing by using rearview mirrors, which Lightning uses to counter Chick Hicks' dirty racing in the Piston Cup race. In the end, Lightning gives Mater an opportunity to fly in a Dinoco helicopter like he always wanted, saying to Sally that Mater is his new best friend.
Mater is also capable of racing, as well as being the (self-proclaimed) world's best backwards driver. He attributes his skill to his rear-view mirrors and his own philosophy: "Don't need to know where I'm going, just need to know where I've been."
Ultima role
Edit
Mater once help Zeke escape from the Orgs, now Mater and his friend, lightning became Society's vehicle unit that specialize rescue and crash course tactic.
Ad blocker interference detected!
Wikia is a free-to-use site that makes money from advertising. We have a modified experience for viewers using ad blockers

Wikia is not accessible if you've made further modifications. Remove the custom ad blocker rule(s) and the page will load as expected.