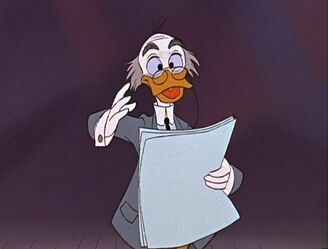 Ludwig von Drake comes from Vienna, Austria. Some creators have presumed that his family is a German branch of the Duck family but that hasn't been included in any major stories. (According to a theory by Don Rosa, the professor married Matilda McDuck, one of Scrooge McDuck's sisters).
Ludwig has a fascination with knowledge. Since his youth he has been trying to obtain as many diplomas, in any science, as possible. He is often shown as having little social competence, however, and is often portrayed as being very forgetful, sometimes even somewhat senile. In the comics Ludwig usually visits with Donald Duck and Donald's nephews Huey, Dewey and Louie. On occasion, Daisy Duck would coax (or even trick) the professor into giving lectures and tours for her ladies' club. Sometimes Ludwig and Gyro Gearloose have competed as to who is the greater inventor.
Ultima role
Edit
Ludwig is one of the geniuses whose often helping the Ultimawielder for the info they needed to know.
althought, sometime he's kinda slipped few time.
Ad blocker interference detected!
Wikia is a free-to-use site that makes money from advertising. We have a modified experience for viewers using ad blockers

Wikia is not accessible if you've made further modifications. Remove the custom ad blocker rule(s) and the page will load as expected.