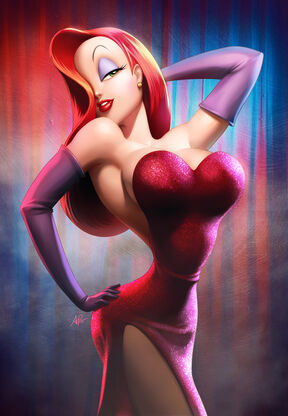 Jessica Rabbit is Roger's human Toon wife in Who Framed Roger Rabbit. In the book, she was an immoral, up-and-coming star and former comic character over whom her estranged husband (comic strip star Roger Rabbit) became obsessed.
She is beautiful, passionate, and glamourous. She is slender and fair-skinned. She has blue eyes, red pouty lips, purple eyelids, long red hair that covers her right eye, aqua earrings, long purple opera gloves, and shiny red pumps. She claims to Eddie Valiant, "I'm not bad, I'm just drawn that way." She adores her husband Roger, and claims she married him because he "makes me laugh".
Ultima role
Edit
Jessica has yet to appeared in Ultima but her husband is on the scout rooster, in some hint, she been cruising around with her unknown battle bot, fighting off villain and other Orgs army as she see, it's unknown yet also how or when she get special training using weapon and driving a battle robot.
Ad blocker interference detected!
Wikia is a free-to-use site that makes money from advertising. We have a modified experience for viewers using ad blockers

Wikia is not accessible if you've made further modifications. Remove the custom ad blocker rule(s) and the page will load as expected.