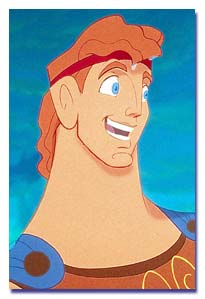 Herc is one of the hero that their world hasn't conquered by the Organization and became Society's strong frontliner when they needed his help
Canon bio
Edit
Hercules was born on Mount Olympus with all the powers of a god, and his parents were Zeus and Hera (who has been recast as a loving mother instead of a spiteful stepmother). On the celebration of his birth, during which the Olympian gods present the infant god with a multitude of gifts. Zeus himself creates the winged-horse Pegasus as a gift. It seems to be a joyous occasion, although one god is not happy about the new arrival: Hercules's evil uncle Hades, lord of the Underworld.
Hades wants to take control of Mount Olympus and the world, and he sees that if Hercules chooses to fight when he is older, his plans will be ruined. Knowing that as a god, Hercules is immortal and invulnerable, Hades sends his two lackeys, Pain and Panic, to kidnap Hercules and turn him mortal by means of a magic potion. Although they succeed in the first part of the plan, carrying Hercules down to Earth, they are interrupted by two human peasants (Amphytryon and Alcmene) before Hercules finishes drinking and the final drop falls wasted on the ground. Pain and Panic nevertheless attack him in the guise of snakes, and discover that because he did not drink the last drop he has retained his godly strength and they are beaten back. Amphytryon and Alcmene adopt the child, considering his arrival a gift from the gods since they are themselves childless. Too late, Zeus and the other gods discover the kidnapping. Because Herc is now mortal, however, they are unable to take him back to Olympus.
Hercules grows into a strong but clumsy teenager. He desperately wants to fit in, but as he cannot control his godly strength he only ends up causing havoc and alienating those around him. On one occasion, he accidentally flattens the local market town during a game of discus. His foster parents decide to finally come clean to him about the circumstances of his adoption, showing him a medallion they find that bears the symbol of the gods (Zeus's lightning bolt). Hercules sets off to find his place in the world, and goes to the Temple of Zeus for guidance.
Hercules has also appeared in the Kingdom Hearts series of video games. In the former, Sora must help Hercules defeat the evil Hades who, having joined Maleficent's main group of Disney Villains, is still trying to take over Olympus.
Appearance in Ultima
Edit
Hercules is the guardian of his world after the attack of Chernabog and Society's most powerful scout when fighting off the Grunts unit.
Herc outfitted with an updated modern greek cloth that similar to a different version of himself.
Ad blocker interference detected!
Wikia is a free-to-use site that makes money from advertising. We have a modified experience for viewers using ad blockers

Wikia is not accessible if you've made further modifications. Remove the custom ad blocker rule(s) and the page will load as expected.