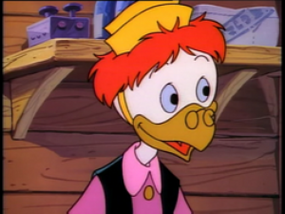 Gyro is Duckburg's wacky inventor. He's a gentle, passive soul who tries to invent things to make the world a better place. Nearly everyone from Mickey Mouse to Grandma Duck have sought Gyro's skills for one purpose or another, however, Gyro's inventions don't always maintain their created integrity, often becoming quite a disaster in the end. Though often under the exclusive employ of Scrooge McDuck, Gyro is also a secret agent for the D.I.A. (Duckburg Intelligence Agency, which, ostensibly is a division of S.H.U.S.H.), under the secret name of "Dr. G.," where his skills are put to use for the government, especially against Dr. Nogood and the agents of F.O.W.L. (Foreign Organization for World Larceny). His role in S.H.U.S.H. seems to have been supplanted by Dr. Sara Bellum (also a chicken) .
Gyro's arch-nemesis is the evil inventor Emil Eagle, though he is also menaced by others such as the Beagle Boys and Magica De Spell. Gyro seems to have had some trouble maintaining his weight in his early days, where he occasionally appeared quite hefty at times, but his primary aspect is slender.
Ultima role
Edit
Gyro also work in the Geniuses, sometime he compete with Ludwig to see who's a better inventor( contrast rivalry to Dexter and Jimmy Neutron).
Ad blocker interference detected!
Wikia is a free-to-use site that makes money from advertising. We have a modified experience for viewers using ad blockers

Wikia is not accessible if you've made further modifications. Remove the custom ad blocker rule(s) and the page will load as expected.