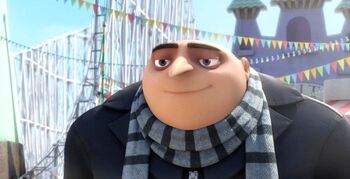 Gru is a super-villain, operating out of his suburban home that serves as a front for an underground lair where he, his partner, Dr. Nefario, and thousands of short yellow minions plan their nefarious deeds.
Some time later, Gru has adopted the girls and treats them as his family, and he writes them a bedtime storybook framed around his own experience. Margo hugs Gru, telling him, that she loves him, which he then hugs her back saying the same thing.
Ultima role
Edit
Gru is currently a member of the House of Genius. Along with his old friend, Nefario, he helps develop weapons, and tech for the Society. He's also developed a close friendship with fellow reformed villain, Megamind.
Ad blocker interference detected!
Wikia is a free-to-use site that makes money from advertising. We have a modified experience for viewers using ad blockers

Wikia is not accessible if you've made further modifications. Remove the custom ad blocker rule(s) and the page will load as expected.