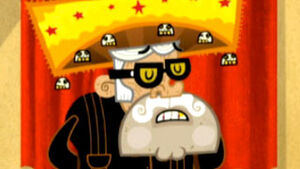 Grandpapi is Manny's grandfather and Rudolfo's father. His name means "Crazy Puma" in Spanish. He is a super villain. Opposite of his son Rodolfo, he wants Manny to become a super villain and will often take Manny with him when committing small crimes. Grandpapi puts his family above all else, even over his super villain ways. When his son or grandson is in danger, he will jump in to help them. Even though Grandpapi is semi-retired, he will often commit crimes and take part in other villain activities such as stealing artifacts and stealing peoples' wallets. However, many times Grandpapi ends up returning what he has stolen after being caught by Rodolfo. Grandpapi says he clearly has an honor code, placing family before being a villain. His source of power is the Golden Sombrero of Chaos, which is able to transform into a robotic suit and can produce several different gadgets and weapons such as claws, a giant drill, and even a small hot air balloon, though the most commonly used are missiles. In the episode Puma Licito, it is revealed that Grandpapi actually owns the house he, Rodolfo, and Manny live in.
Appearance in Ultima
Edit
Even he still has attention to do some evil menace, but managed to tone down for the safety of his family and Society, He once brought to desperate mission to save a sudden vanished good nature Society members by teaming up with other once evil Org's member that turn side with the Society.
Ad blocker interference detected!
Wikia is a free-to-use site that makes money from advertising. We have a modified experience for viewers using ad blockers

Wikia is not accessible if you've made further modifications. Remove the custom ad blocker rule(s) and the page will load as expected.