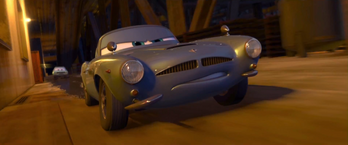 Finn is a master British spy. Though charming and eloquent, it's his stealth maneuvering, intelligence and years in the field that enable him to thwart unexpected attacks from bad guys, making quick daredevil escapes. Finn's design is sleek and timeless, but he is also prepared for any tricky situation with an arsenal of ultra-cool gadgets and weaponry, including front and rear grappling hooks, a missile launcher, deploy-able magnetic explosives and a holographic disguise emitter. As a seasoned professional in the game of international espionage, Finn believes there's a conspiracy brewing during the World Grand Prix. His clandestine work surrounding the global exhibition race puts him on a collision course with Mater, whom he mistakes for an undercover American agent with a genius disguise.
Ultima role
Edit
Finn working for the Special group black ops unit for espionage mission while he still make contact to his misguided former spy friends, Mater.
Ad blocker interference detected!
Wikia is a free-to-use site that makes money from advertising. We have a modified experience for viewers using ad blockers

Wikia is not accessible if you've made further modifications. Remove the custom ad blocker rule(s) and the page will load as expected.