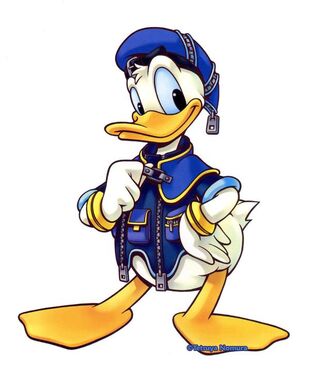 Donald is the most hotheaded and likely clumsy yet brave enough to be one of Society scouts and also a close companion to Sora the keyblade wielder along with Mickey and Goofy.
Canon bio
Edit
Donald's dominant personality trait is his short temper and, in contrast, his positive look on life. Many Donald shorts start with Donald in a happy mood, without a care in the world, until something comes and spoils his day. His anger is a great cause of suffering in the duck's life, and he has on multiple occasions got in over his head and lost competitions because of it. There are times when he fights to keep his temper, and he has succeeded a few times, but he always returns to his well known, aggressive self at the end of the day.
Donald's aggressive nature is a double-edged sword however, and while it at times is a hindrance and even a handicap for him, it has also helped him in times of need. When faced against a threat of some kind, Donald may get frightened and even intimidated (mostly by Pete), but rather than getting scared, he gets mad and has taken up fights with ghosts, sharks, mountain goats and even the forces of nature. And, more often than not, Donald has come out on top.
Donald has also been shown to be a bit of a show-off. He likes to brag, especially when he is very skilled at something. This has a tendency to get him into trouble, however, as he also tends to get in over his head.
Still, Donald has proven that he is a Jack of all Trades and are, among other things, a good fisher and hockey player.
In Kingdom Hearts, Donald is the Royal Magician of Disney Castle and the royal assistant for King Mickey. As such, his weapon of choice is a Staff. He often provides comic relief more than advancing the plot despite the amount of camera time he has in the series. He is rash and has an aggressive personality, but he is loyal to his friends.
Though he initially only cares about Sora as a means to track down King Mickey, Donald soon grows to deeply care for him as a friend
Appearence in Ultima
Edit
he along Mickey and Goofy even other Disney character were the member of Society, he still keep close contact with Sora while he's away.
he also fought along with the Ultimawielder while they been captured by pirates, fight Xemnas and also a big battle against Solaris.  Obvioulsly, Donald doesn't get along too well with Daffy Duck
Ad blocker interference detected!
Wikia is a free-to-use site that makes money from advertising. We have a modified experience for viewers using ad blockers

Wikia is not accessible if you've made further modifications. Remove the custom ad blocker rule(s) and the page will load as expected.