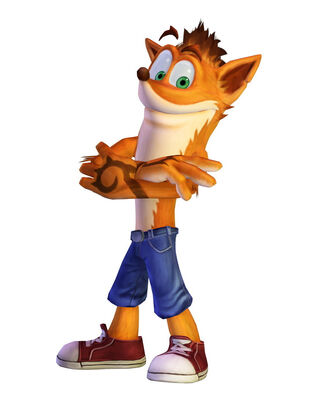 Crash was genetically engineered through the use of Cortex and Doctor Nitrus Brio's Evolvo-Ray. Before being ejected from Doctor Neo Cortex's island fortress, Crash became romantically attached to a female bandicoot named Tawna, who was another one of Cortex's experiments. Crash's separation from Tawna at the hands of Cortex serves as the primary root of Crash's antagonisation of Cortex.
Crash is a very emotional character who is quick to laugh and quick to cry.
While he has a danger-loving, fearless nature and loves a good fight, he prefers relaxing in the sun and rarely seeks out trouble deliberately. Crash has an extremely limited vocabulary, preferring to speak in unintelligible gibberish; the few English words he is capable of speaking include 'Whoa!' (which he often exclaims upon being physically harmed), 'Nina' and 'pancakes'.
To the ire of his friend Crunch, but the amusement of his sister, Coco, Crash is prone to impolite personal habits such as belching or scratching his posterior.
Ultima role
Edit
Ad blocker interference detected!
Wikia is a free-to-use site that makes money from advertising. We have a modified experience for viewers using ad blockers

Wikia is not accessible if you've made further modifications. Remove the custom ad blocker rule(s) and the page will load as expected.