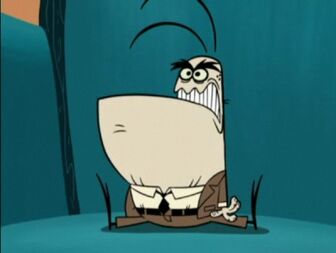 He was once T.U.F.F.'s number one agent during his youth. But as he became the chief, he succumbed to various age-related detriments, including a bionic foot, artificial hip, false teeth, and short-term memory loss. Although he is small, he still retains combat skills, as well as super strength for a flea, considering he is able to "judo-flip" criminals as big as gorillas.
he Chief may be smaller than a penny, but he packs the punch of an angry bull. A grumbly, no-nonsense, battle-scarred flea, this tough-talker has seen and done it all. To make sure he gets his points across to his crime-fighting friends, the Chief uses a video camera rigged up to a floating big screen TV to always appear larger than life.
The Chief is known to act like, well, a chief. He is always commanding the gang to orders of which they are capable or known of.
The Chief hires T.U.F.F. agents on the spot quite easily, as he did with Dudley and Snaptrap, despite the circumstances of their past battles. Even though he's blunt, abrasive, grumpy, and forgetful at times, the T.U.F.F. agents still look up to him, or down, depending on if he's using a video monitor to broadcast orders or not. The Chief is a little past his prime and has false teeth, a toupée, and a bionic foot. Despite these traits, he is shown to have a strong will and a take-charge attitude.
Ultima role
Edit
Chief still managing T.U.F.F but also a valuable member of the Society scout unit.
He also take upon assisting on leading structure on the academy, with more defensive system method.
Ad blocker interference detected!
Wikia is a free-to-use site that makes money from advertising. We have a modified experience for viewers using ad blockers

Wikia is not accessible if you've made further modifications. Remove the custom ad blocker rule(s) and the page will load as expected.