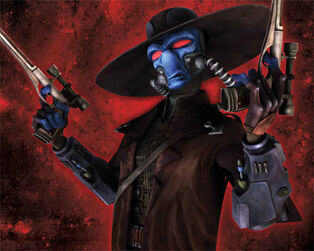 Cad Bane portrayed as a cold and manipulative bounty hunter from the planet Duro.
Ultima role
Edit
Bane usually working for higher gain even though some of top Orgs hired him for espionage, smuggling and frontline mission,
Bane also fought the Ultima while trying to get Kristy back to their grasp.
Ad blocker interference detected!
Wikia is a free-to-use site that makes money from advertising. We have a modified experience for viewers using ad blockers

Wikia is not accessible if you've made further modifications. Remove the custom ad blocker rule(s) and the page will load as expected.