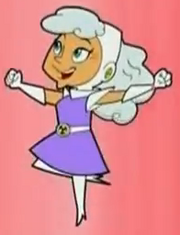 Beatrixo is Betty's grandmother a lively older woman with a love of clog dancing and numerous other talents. She lives on her farm in the countryside just outside of Moose Jaw Heights. However, she was also one of the first Galactic Guardians, and, in her younger years, looked like an adult version of Betty. She only comes out of retirement occasionally if Betty is in serious need of help.
Despite being retired, most of her old equipment remains functional; her starcruiser, the Century Warbler, remains operational. Betty had discovered her own grandmother's past when she discovers her old Galactic Guardian bracelet (similar in appearance to Betty's own) in her attic, but she at first shrugs it off as merely being coincidence. In "Evil Idol", she presents Betty with a special locket for her birthday, to be used whenever she encountered trouble; when Maximus later captures her on a Galactic Guardian mission later that day, Betty discovers her grandmother's past when the locket is revealed to be a signal beacon; Beatrixo manages to save Betty and her crew.
Beatrixo has a sister, Auntie Matter who she has a bitter sibling rivalry with. Auntie Matter is also one of Beatrixo old archenemies from her youth mainly due to her sister's power to turn herself into a black hole which according to her she inherited from their father (indicating that it is possible that Betty's great-grandfather wasn't human). Beatrixo however is said to take after their mother (who was likely a normal human like Beatrixo, Betty's Mother, and Betty herself) who possessed no super powers. At one time or another, Beatrixo and Auntie Matter have been romantic rivals (fighting over various boyfriends), which includes Jimmy Beatrixo's husband.
Ad blocker interference detected!
Wikia is a free-to-use site that makes money from advertising. We have a modified experience for viewers using ad blockers

Wikia is not accessible if you've made further modifications. Remove the custom ad blocker rule(s) and the page will load as expected.