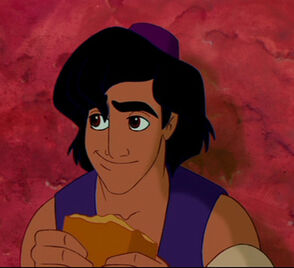 Aladdin is one of few hero whose world haven't been destroyed yet, when the Society need him, he became their scout and spy for information on Organizations due to his childoods as a street rat in his homeworld
Canon bio
Edit
When Aladdin is introduced initially, he is 18 years old. He never received a formal education, and has only learned by being on the streets of Agrabah. He steals to survive, making him a sort of Robin Hood-type thief. Aladdin was born 18 years prior to the events in the first film. He was born to Cassim and his wife. When Aladdin was only an infant, his father left him and his mother in order to find a better life for his family. When Aladdin was two, his mother was captured by bandits and was presumed dead. Aladdin's parents were too poor to provide clothing for their son. When Aladdin was seven, he had his first encounter with Razoul, the new captain of the Sultan's guard. Aladdin had stolen an apple from a fruit stand. Initially, the boy managed to outmaneuver the guards. Eventually, he was apprehended and sentenced to detention within the palaced dungeon. However, he managed to escape by picking the locks to his chains. When he was twelve, he stole a vest, a pair of pants, and a fez from a clothes line. When he was sixteen he fell in with a group of circus performers, one of whom was the monkey Abu.
he's portrayed as clever, and ultimately a good-hearted person. Like most Disney male protagonists he is a brave young man who seeks to win the affection of many other characters, which demonstrates his insecurity. He is not above lying and stealing, though never with evil intentions, but in order to survive. The biggest difference from the norm is that, unlike most youthful Disney heroes, he is a doer rather than a passive character.
Appearance in Ultima
Edit
Al still watching over Agrabah and his world for sign of the Orgs while also part time for Society scout mission.
Al is outfitted a battle cloth that somehow similar to the Prince of Persia attire.
Ad blocker interference detected!
Wikia is a free-to-use site that makes money from advertising. We have a modified experience for viewers using ad blockers

Wikia is not accessible if you've made further modifications. Remove the custom ad blocker rule(s) and the page will load as expected.